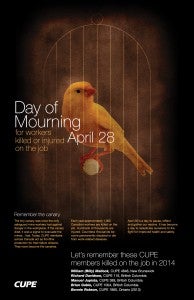 Day of Mourning for Workers Injured or Killed on the Job
We meet once again to acknowledge those who have been killed or injured trying to earn money to support themselves and their families.
Too many workers around the world pay an unacceptable price so that corporations can continue to earn huge profits. Why do we accept this?
When are we going to insist that our physical and psychological well-being are not acceptable sacrifices so that we may provide a decent standard of living for ourselves and our loved ones?
We all have a responsibility to work toward achieving safe working conditions for workers around the world. Unfortunately, we often look the other way. For example, why do we continue to buy clothing that we know is made in sweatshops, where workers are exploited shamelessly and working conditions are unacceptably dangerous?
If we let employers get away with violating safety regulations and jeopardizing workers in other countries do we honestly believe that it won't happen here? … Read more…