CUPE Local 23 represents employees of the City of Burnaby and the Burnaby Public Library Board.
Our members work at all public facilities in the city  and are proud providers of a wide range of services to the residents of Burnaby, from lifeguards to garbage collectors, planners to librarians and everything in between.
Officers and Executive Board
CUPE 23 has an Executive Board made up of 3 Table Officers and Officers elected from its 4 divisions. Each division elects a Chairperson, Vice Chairperson and 2nd Vice Chairperson. There are 2 At Large positions for Precarious Workers (elected from any division, must be Aux, RPT, TPT, or TFT) There is also a Trustee representing each division.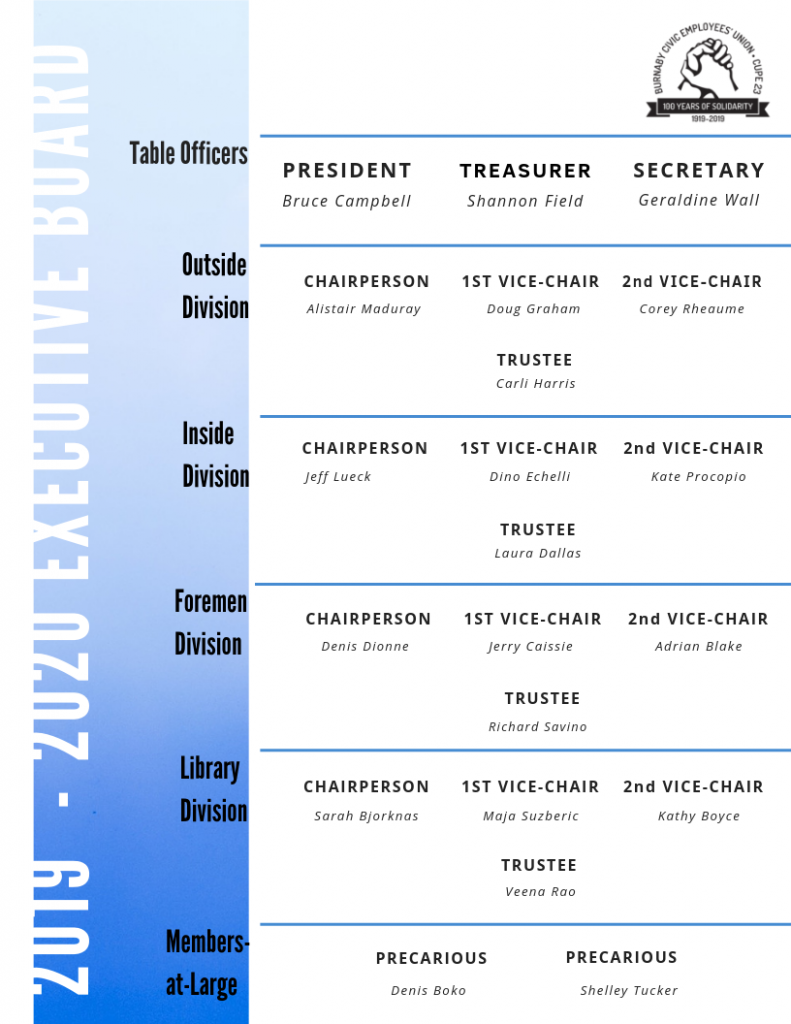 A downloadable & printable contact list for the Executive Board and Trustees is available on the Members Only page.
If you have problems in your workplace, please contact your shop steward, or your union executive.
Committees
Our union has a variety of committees that members can be involved with, depending on your interests. Contact your Division Executive Board members if you are interested in serving on a committee.
MAP Committee (Member Assistance Program) – Made up of union counsellors who are members who have been trained to help guide their peers to resources that can provide assistance with social and personal issues. Contact the committee – memberassistanceprogram@cupe23.ca
Social Committee – The creative and dedicated members of this committee organize a variety of events throughout the year that are fun and provide an opportunity to socialize with your fellow members and include your family in union activities.
Education Committee – The work of this committee is to guide and plan for union education opportunities for our members.
Constitution Committee – This committee recommends changes and updates on our local Constitution and By-laws.
Political Action Committee – This committee connects the needs and work of our members to the election and accountability of our governments.
Communications Committee – Members of this committee advise and assist in developing and maintaining a variety of effective communication tools to keep our members connected with their union and each other.
Fitness & Wellness Committee – Members of this committee helped to set up the bActive pass – members receive great value with 40% off adult rates for various activities at any City of Burnaby recreation facility.