Click on notices to register.
Please ensure that your leave from work will be approved before registering.
---
Canadian Labour Congress 2019 Winter School
See available courses below – click for application form
Click here for course descriptions.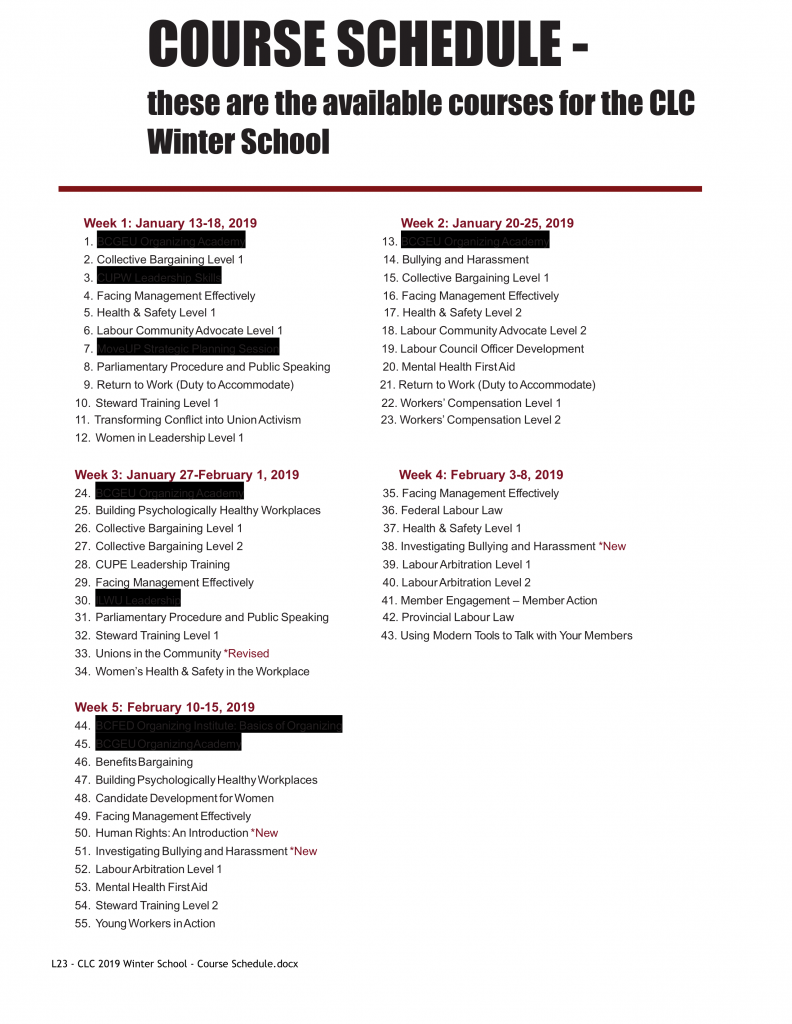 ---
Retirement Planning 2018
It's never too early to start planning for your retirement. Learn about government and workplace pensions and leave with some good tools to help you prepare financially and psychologically.
NOTE: This workshop does not provide specific or personal financial advice.
MPP will cover Approaching Retirement which is interactive with plenty of time for discussion and a chance to ask questions. The MPP presenter goes over their presentation on Friday from 9:00am -11:00am, and CPP/OAS on Thursday, from 1:00pm – 2:30pm.
You will cover the following:
Choosing your best pension option
Retirement Checklist
Income and expense worksheets
Life stages around retirement
Retirement application process
Implications of returning to work
Each participant will receive a handbook to take home. Please bring a calculator.
Each day will be 9:00 am – 4:00 pm
For all members (even if you were previously on a waitlist) please register online via the following links – click on the seminar date you wish to attend.  Spouses are welcome!  If you are retiring this year, please make sure you register!
Please be sure to pre-clear your leave time with your supervisor before registering. A union leave form will be forwarded to you when the registration is processed.
December 6-8 (
Thurs-Fri-Sat
) –

Registration Deadline Oct 12th
---
BCFED Health & Safety Centre
The BCFED Health & Safety Centre was first established to help train workers and workplace representatives so they could act with confidence and competence on their considerable legal rights and responsibilities as provided by occupational health and safety law. Meeting and exceeding this legislation remains a focus for the Centre. In the face of unchecked occupational hazards and much suffering, full implementation of these rights and responsibilities is an absolute necessity, socially and morally.
Click here for the 2018 BC Fed Health and Safety Centre Course Schedule.
---
To apply for courses (unless another form is provided or you are directed to register online) you can print out and complete this form – L23 Course Application 2018 fillable – and send to the office or fill it in, save and email it as an attachment.