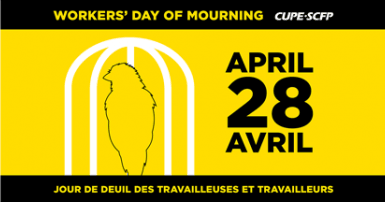 Tuesday, April 28th marks the National Day of Mourning – a day to honour the memory of workers who have been killed or injured on the job.
Every year, more than 1,000 Canadians lose their lives or are injured at the workplace. Countless others die from illnesses caused by work-related exposure to toxic substances. As we recognize the sacrifices they have made, we also renew our commitment to the goal of improving health and safety in the workplace.
The City will live stream a ceremony at 11am to commemorate the National Day of Mourning. Due to COVID-19 and the need for physical distancing, this year's ceremony will be a small, invite-only event.
Click here to watch live »<http://video.isilive.ca/burnaby/live.html>
We encourage each of you to pause for a minute of silence when the event begins at 11 a.m. and remember those lives lost or injured in the workplace and reflect upon how we can prevent further tragedies.