Playing at the Anvil Centre Theatre on February 25-28, 2016
777 Columbia Street, New Westminster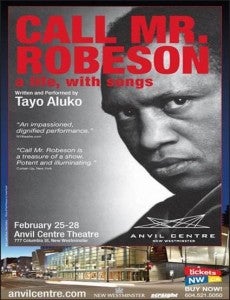 A wonderful opportunity to learn about the history of the Labour Movement in an entertaining and inspiring way.
Call Mr. Robeson is  perfect, moving, fascinating and intense. This performance is not to be missed.
Call Mr. Robeson, a Life, with Songs is a sensitive dramatization of the life and songs of Paul Robeson, a Pioneer of the Labour Union Movement, written and performed by Tayo Aluko, an award-winning performer from England.