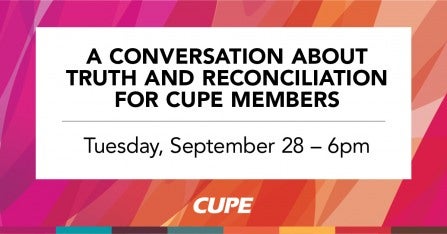 Tuesday, September 28 – 6pm
Truth and reconciliation: conversations for CUPE members
How can CUPE members contribute to truth and reconciliation with Indigenous people? What can we learn from Indigenous CUPE members and their experiences and activism? And how can we support the fight for justice for today's generation of Indigenous children and youth?
These and other questions will be addressed at a free, national webinar hosted by CUPE's Human Rights Branch, in collaboration with Union Education. 
What:            A Conversation about Truth and Reconciliation for CUPE members
When:            Tuesday, September 28, 6:00 PM
Register in advance here.
Who:               Event speakers include:
Debra Merrier, Diversity Vice-President for Indigenous Workers, CUPE National Executive Board
John Brady McDonald, Senator, CUPE Saskatchewan Indigenous Council Committee
Mark Hancock, National President, and Charles Fleury, National Secretary-Treasurer, will provide opening remarks and introduce Elder Thomas Louttit.
Moderator: Dana Wesley, Senior Officer (Indigenous Issues), CUPE Human Rights Branch
Event details:
The webinar will be followed by moderated Q&A sessions
ASL and live captioning will be provided
Registration required. All welcome
Register here